InfraBoard Managed Network
An innovative network setup that offers a streamlined and efficient solution.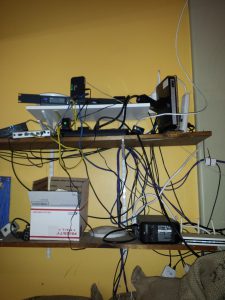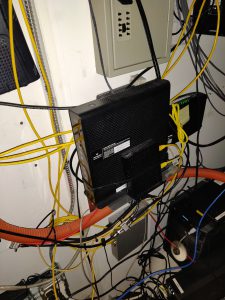 After repeatedly encountering small businesses with tangled networks like these, I realized a prevalent problem that demanded a better solution. When faced with internet or network issues, the question arises: What should you reboot? The person responsible for the chaotic setup might have left, or the problem may occur infrequently, causing it to slip from memory entirely.
We created the InfraBoard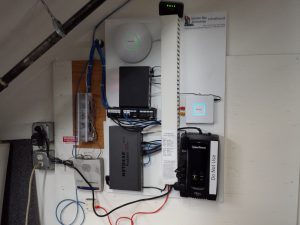 To address this challenge, we have developed an innovative network setup that offers a streamlined and efficient solution. Our standardized managed network solution ensures consistency across all our customers, allowing us to troubleshoot issues from memory rather than sifting through specific configurations in notes.
As part of our setup, we provide a single power button for the entire network. By simply toggling this switch, the entire network reboots within three minutes. Gone are the days of power cycling individual hardware components, wasting valuable time that could be better spent resolving the issue at hand. Our standardized managed network is mounted on a compact 2'x2′ or 2'x3′ board, offering support for 1 to 24 users. Additionally, we incorporate a Power over Ethernet (PoE) switch to ensure uninterrupted phone service even during power fluctuations. Furthermore, our network includes a router, switch, UPS, access point, and dedicated space for the ISP modem, all connected to our reliable UPS system.
This software-defined network is remotely managed, eliminating the need for on-site visits to make configuration changes.
Since the configurations across our managed networks are nearly identical, we can swiftly apply solutions to specific client issues and seamlessly roll out beneficial changes to all our managed networks. The same principle applies to security—we proactively address emerging threats or issues at one client and promptly implement increased security measures across all networks, safeguarding our clients before the problem arises.
With our managed network solution, businesses can bid farewell to tangled networks and welcome a reliable, efficient, and centrally controlled infrastructure. By reducing downtime and ensuring consistent performance, we empower our clients to focus on their core operations while we handle the intricacies of network management.
In conclusion, our standardized managed network solution provides a comprehensive and hassle-free approach to network management. By centralizing control, streamlining processes, and proactively addressing issues, we enable businesses to thrive in a connected world without being burdened by network complexities. Experience the difference and let us transform your network into a reliable and efficient backbone for your operations.
Office
4601 Shilshole Ave NW, Ste 5
Seattle, WA 98107
Hours
M-F: 8am – 5pm
S-S: Closed